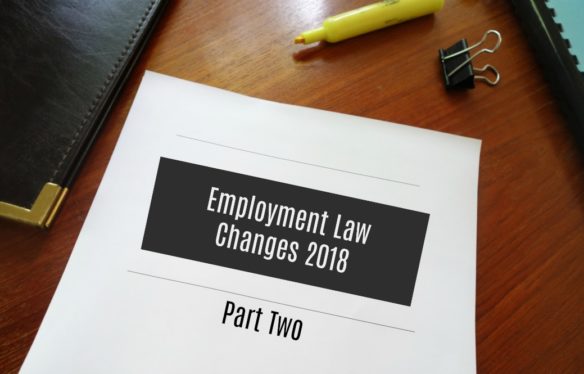 Employers, have you examined your employment processes for 2018 yet? The new year will be here before you know it, and with that comes important updates you must be aware of!
This is part 2 in our three-part series on Employment Law Changes for 2018. We at RTR Consulting want to make sure you know about relevant new laws, bills, and policies including:
Minimum Wage Increase
Don't forget the minimum wage increases in 2018. The chart below is just for the state of California and does not include local ordinances that require minimum wages higher than the rule.
Date
Minimum Wage for Employers with 25 Employees or Less
Minimum Wage for Employers with 26 Employees or More
Minimum Salary to be exempt from FSLA

Under 25 EE

Minimum Salary to be exempt from FSLA

Over 65 EE

January 1, 2017
$10.00/hour
$10.50/hour
$800.00
$840.00
January 1, 2018
$10.50/hour
$11.00/hour
$840.00
$880.00
January 1, 2019
$11.00/hour
$12.00/hour
$880.00
$960.00
January 1, 2020
$12.00/hour
$13.00/hour
$960.00
$1040.00
January 1, 2021
$13.00/hour
$14.00/hour
$1040.00
$1120.00
January 1, 2022
$14.00/hour
$15.00/hour
$1120.00
$1200.00
January 1, 2023
$15.00/hour
$1200.00
SB 396 (Expansion of Harassment Training)  
As you review your plans for training in 2018, you need to add definitions to sexual harassment. California's Fair Employment and Housing Act already requires employers with 50 or more employees to provide at least two hours of prescribed training and education about sexual harassment to all supervisory employees within six months of being promoted to a supervisory position and once every two years after that.
Effective January 1, 2018, this new law requires covered employers to include information on harassment based on gender identity, gender expression, and sexual orientation as a component of that prescribed training. Employers also have to publish new/amended posters from the Department of Fair Employment and Housing on harassment and transgender rights.
Be sure to read part 1 of this series and watch for part 3 coming up!
This is the second in a series of three blogs regarding important info employers need to know and implement in 2018. If you'd like to learn more about these new laws and how they will affect your Employment Processes, please contact the experts at RTR Consulting. For more than 20 years, we've been helping small to medium-sized businesses manage their most precious resource through a full range of HR services – at a fraction of the cost of an in-house department, too!