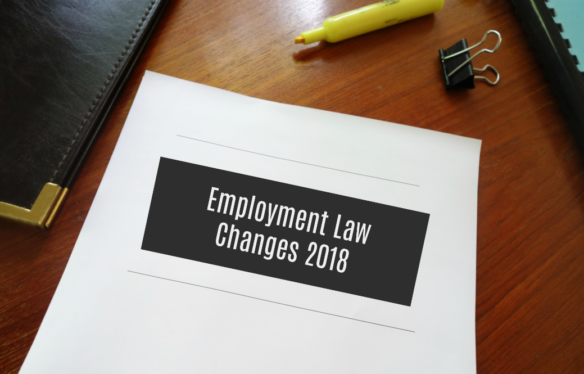 Happy Almost New Year: Time to Examine Your Employment Processes for 2018
This is the first in a three-blog series with essential information employers need to know about new laws, bills, and policies.
Employers, have you examined your employment processes for 2018 yet? Start by asking yourself, is my recruitment and selection process working? Before you get to work, make sure you know about these relevant new laws that may change your method and require you to make changes to the information you can gather from a prospective employee.
AB 1008 (Ban the Box)  
Starting January 1, 2018, this new law amends the California Fair Employment and Housing Act to prohibit employers with five or more employees from inquiring about criminal history on an employment application and/or at any time (including the interview process) before making a conditional offer of employment. This law also requires an employer who intends to deny an applicant a position of employment solely or in part because of the applicant's conviction history to take an extra step. Make an individualized assessment of whether the applicant's conviction history has a direct and adverse relationship with the specific duties of the job he or she is applying for, and to considering the nature and gravity of the offense, the amount of time that has passed, and the nature and duties of the job sought by the applicant.
An employer who makes a preliminary decision to deny employment based on that individualized assessment must provide the applicant a written notification of the initial decision. The information must identify the disqualifying conviction(s) and inform the applicant that he or she may provide a response that includes evidence challenging the accuracy of the conviction information and/or demonstrating rehabilitation or other mitigating circumstances.
The employer also must provide a copy of the conviction history report, if any. The employer may, but is not required to explain or justify the reasoning for its preliminary decision.  The applicant must be provided with at least five business days to respond (before the employer can make a final decision on employment).  If the applicant notifies the employer in writing that he or she disputes the accuracy of the conviction history and is obtaining evidence to support that assertion, the applicant must be given an additional five business days to respond to the notice.  The employer is required to consider any information submitted by the applicant before making a final decision.
If a final decision is made to deny employment, the employer again must provide written notification to the applicant and inform them of his or her right to file a complaint with the Department of Fair Employment and Housing and/or of any internal appeal rights the applicant may have to challenge the decision. Again, the employer may but is not required to explain its justification/reasoning for its final decision.
This new law does not apply in those limited circumstances where a public or private employer is required by law to conduct a criminal background check or to restrict employment based on criminal history.
Covered California employers should familiarize themselves with the requirements of this new law and modify their employment applications and hiring processes accordingly.
AB 168 (Salary Inquiries) 
This new law which goes into effect on January 1, 2018, adds section 432.3 to the Labor Code and prohibits employers, public and private, from inquiring about or considering, information pertaining to an applicant's prior salary history to determine whether to offer employment to the applicant and/or the amount to pay the applicant.
It also requires employers to provide the pay scale for a position upon request by an applicant.  An applicant may voluntarily disclose information concerning prior salary history, in which case the employer may consider it in determining the employee's compensation.  This new law is intended to combat the continuation of historical pay gaps existing along with gender and/or racial lines.
Usually, during the recruitment process, we ask on the employment application have you ever been convicted of a crime? We also have applicants list their past three or four employees with dates of employment and starting and ending salary.
This is the first in a series of three blogs regarding important info employers need to know and implement in 2018. If you'd like to learn more about these new laws and how they will affect your Employment Processes, please contact the experts at RTR Consulting. For more than 20 years, we've been helping small to medium-sized businesses manage their most precious resource through a full range of HR services – at a fraction of the cost of an in-house department, too!