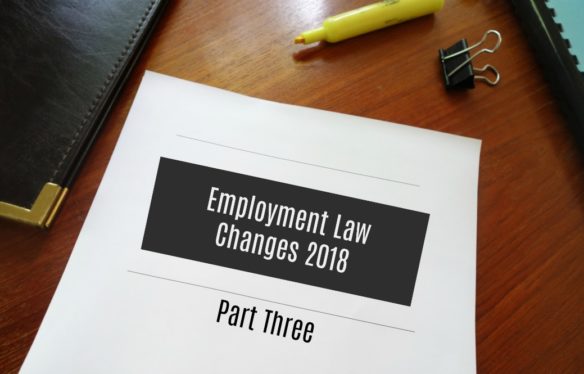 This is the last in our three-part series of Employment Processes for 2018, giving you essential information on new laws, bills, and policies. Employers, you must stay up-to-date on changes that could much affect you and your business. We at RTR Consulting want to make sure that you are prepared when the new year rolls around, to be in compliance, and maintain a positive work environment.
If you missed them, be sure to read part 1 and part 2 in the series for more critical updates.
SB 63 (Expansion of Parental Leave Rights)
Those employers with 20 or more employees also need to develop a policy for Parental Leave. While the leave is unpaid, an employer needs to plan on allowing an employee having a baby up to seven months of unpaid leave. This new law, effective January 1, 2018, adds section 12945.6 to the Government Code and provides that an employee who has at least 12 months and 1250 hours of service within the prior 12 months, and who works at a worksite with at least 20 employees within 75 miles, is entitled to take up to 12 weeks of parental leave to bond with a new child within the first year of the child's birth, adoption, or foster care placement.  The employer also is required to maintain the employee's group health coverage during such leave, on the same terms as if the employee was actively reporting to work. There are already state and federal statutes requiring larger employers (50 or more employees) regarding such leave, but this new law creates parental leave rights for employees of smaller employers.  If an employee is already entitled to leave under the FMLA or CFRA, this new law does not grant the employee another 12-week bucket of time off to also use.
The Immigrant Worker Protection Act
Employers need to review their policy for Immigrant worker workers in 2018 too. Effective January 1, 2018, the Immigrant Worker Protection Act will prohibit employers in California from voluntarily consenting to allow immigration enforcement agents to enter any nonpublic areas of their workplaces unless they obtain a subpoena or judicial warrant.
The Act prohibits employers from consenting to enforcement agents accessing, reviewing, or obtaining their employee records (except Forms I-9 and other documents for which ICE has provided the required three days' notice before inspection) without a subpoena or judicial warrant.
Employers also will be required to notify employees of any inspections of Forms I-9 or other employment records within 72 hours of receiving notice of the inspection, including:
The name of the agency conducting the inspections
The date that the employer received notice of the inspection
The nature of the inspection to the extent known
A copy of the Notice of Inspection of I-9 Employment Eligibility Verification forms for the inspection to be conducted
By July 1, 2018, the California Labor Commissioner will create a template that employers may use to satisfy these notice requirements.
Within 72 hours of receiving inspection results, employers will be required to provide affected employees a copy of the written immigration agency notice and a written notice containing specific information about their collective obligations.
Employers that violate any of the aforementioned requirements will be subject to civil penalties of $2,000 to $5,000 for a first violation and of $5,000 to $10,000 for each subsequent violation.
In addition, employers will be prohibited from reverifying the employment eligibility of a current employee at a time or in a manner not required by specified federal law. Violations of this requirement will be subject to a civil penalty of up to $10,000.
SB 306 (Expanding The Labor Commissioner's Authority)
The approval of SB 306 means the DLSE will be authorized to investigate an employer—with or without a complaint being filed—when, during a wage claim or other investigation, the Labor Commissioner suspects retaliation or discrimination. The bill will also allow the Labor Commissioner or an employee to seek injunctive relief (that the employee be reinstated pending resolution of the claim) upon a mere finding of "reasonable cause" that a violation of the law has occurred. That injunctive relief, however, would not prohibit an employer from disciplining or firing an employee for conduct that is unrelated to the retaliation claim. The bill also authorizes the Labor Commissioner to issue citations directing specific relief to persons determined to be responsible for violations and to create specific procedural requirements.
If you'd like to learn more about these new laws, bills, and policies and how they will affect your Employment Processes for 2018, please contact the experts at RTR Consulting. For more than 20 years, we've been helping small to medium-sized businesses manage their most precious resource through a full range of HR services – at a fraction of the cost of an in-house department, too!