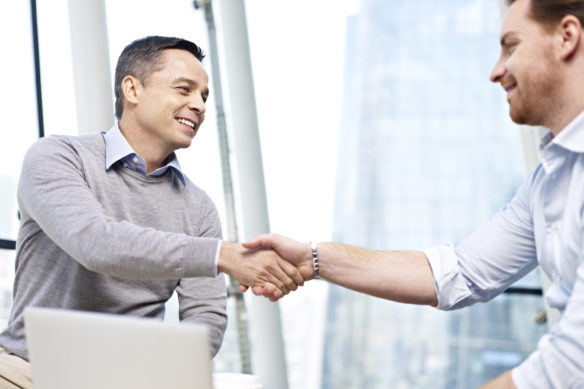 Companies tend to spend a lot of time perfecting their recruitment processes, from projecting an appealing corporate image as a great place to work to perfecting their interview techniques to weed out the posers from the true talent.
But what happens after an interviewee becomes an employee?
Finding the right talent is only half the battle. Unfortunately, even when companies feel like they've made the best decision, many new employees will walk or fail within the first two years. According to a publication by the Society for Human Resource Management (SHRM), half of all hourly wage earners quit their new jobs within the first four months, while outside hires for upper-level positions fail within eighteen.
The new hire's experience in the first year on the job is just as crucial to retention as the recruitment process itself – having an effective onboarding plan can ensure that experience is a positive one.
What is onboarding and why do companies need it?
Many may confuse onboarding with orientation, but they are actually very different. While orientation is usually a single event full of formalities like paperwork, onboarding is a strategic process aimed at assimilating new hires. Basically, you're making them feel at home at the company and in their roll.
The onboarding process, also known as organizational socialization, can last anywhere from a few months to just over a year and includes activities that promote employee engagement, such as one-on-one discussions and regular progress reviews, mentoring programs, on-the-job training, taking new hires out to lunch, and rewarding accomplishments.
Onboarding can have quantifiable effects on a company's bottom line by improving employee engagement and productivity, turnover rates, and even customer satisfaction. Turnover alone costs businesses a fortune – the cost to replace an employee can be as high as two and a half times their annual salary. And the higher up the employee, the greater the cost to replace them.
Short-term goals and long-term outcomes of onboarding
During the first few months, employees are adjusting to their new rules. A successful onboarding strategy ought to:
Instill a sense of self-efficacy, or ensure the new employees come to feel confident in performing their duties. Confidence can increase motivation and organizational commitment.
Clarify an employee's role and what is expected of them. It's not enough to list the position's responsibilities in a recruitment post. Management or key staff should work with new hires to make sure they fully understand what is expected of them.
Socialize new recruits, making sure they get to know and feel comfortable with their peers and superiors. The goal is to form strong interpersonal relationships.
Instill a firm knowledge of company culture and where the recruit fits into that culture. Without an understanding of the company's unique set of goals and values, new employees will not have a clear direction or purpose.
In the long-run, investing resources into an onboarding method tailored to one's company and new employee needs will lead to greater job satisfaction, loyalty and commitment, lower turnover rates, increased performance and effectiveness, and overall lower stress levels (for everyone).
If you're looking to create or improve your onboarding process, please contact our human resource experts at RTR consulting. We provide a full range of HR services at a fraction of the cost of an in-house department.